Z4 Smith Point, VA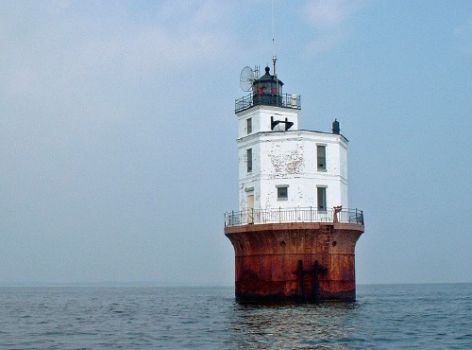 Why are you reporting this puzzle?
Smith Point Light is a caisson lighthouse in the Virginia portion of the Chesapeake Bay at the mouth of the Potomac River. It is listed on the National Register of Historic Places.
"Smith Point", at the mouth of the Potomac River, has been marked by a succession of lights, having been served by three towers, three lightships, a screw-pile lighthouse, and the present caisson structure. The first light, a stone tower, was erected by Elzy Burroughs on Smith Point itself in 1802. Erosion at the point was severe, and the light had to be rebuilt further inland in 1807 by Burroughs and his brother, William K. Burroughs. William had also been named the second keeper of the light in 1806. Again in 1828 the tower was rebuilt, this time by another builder. This last tower was finally abandoned in 1859, having been supplemented in the meantime by a lightship stationed off the point from 1821 onward.