Seals putting on a show
Seals putting on a show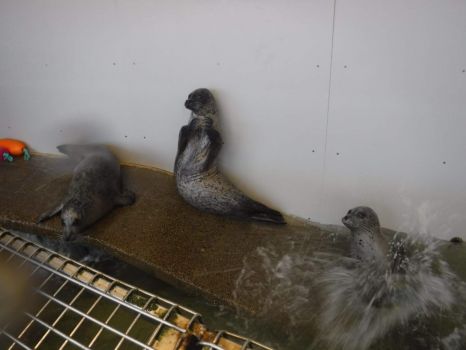 Why are you reporting this puzzle?
Aquarium at Seaside, on the northern Oregon coast.

This is a wonderful family adventure! Besides having a really nice, very kid friendly aquarium that's less than one block wide, perhaps the most entertaining part (for bigger kids like me) is feeding the seals. That's never gotten old during the thirty five years we've been making a yearly pilgrimage to Seaside.

For a dollar, anyone can get a container of small, dead fish to toss to the dozen or so harbor seals. Of course, the seals, being very bright, know how to work an audience. and they've learned to do tricks to attract food.

In this picture, the center seal is sitting up flapping/ clapping his flippers together, the one to the right is slapping water at the potential feeders. And, of course, the third seal is just lolling his big eyes, to try to look cute and sad.