Lengthy But Interesting Facts On The History Of Love Stamps In The U.S.A.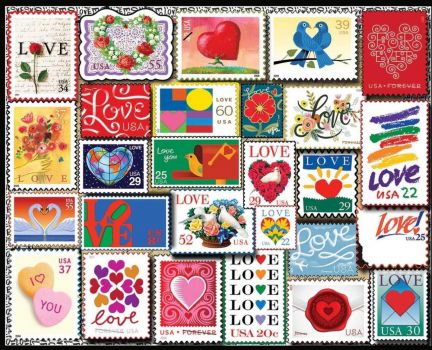 Why are you reporting this puzzle?
U. S. Love Stamps

Despite the huge popularity of the Valentine's Day card (and postcard!), the United States Postal Service was slow to climb on the bandwagon with a celebration of its own. The first Love stamp did not appear until January 1973 (Scott 1475). The design was based on the iconic LOVE sculpture by Robert Indiana (born 1928), one of the most well-known works in the pop art movement.

The stamp received an enthusiastic welcome from the mailing public, but it would be eight years before the "Love" theme was repeated. Finally, in 1982 the USPS released a oral tribute with the word "LOVE" spelled out in a variety of owers (Scott 1951). Two years later, a third Love stamp was issued (Scott 2072), this one showing five repetitions of the word "LOVE" with a different colored heart replacing the "V" in each.

The 1984 Love stamp also was considered a special rather than a commemorative; that is, it was available in larger quantities and for a longer period of time than a commemorative. According to USPS press releases, the new Love stamp was intended for use "not just for Valentine's Day but for special occasions throughout the year, such as weddings, birthdays, anniversaries and letters to loved ones."

Generic Love stamps continued to appear in 1985 and 1986. Picking up a color scheme begun with the 1984 issue — and one that would be used pretty consistently for the next ten years — the 1985 stamp (Scott 2143) featured bold slashes of primary and secondary colors above the text: a purple "LOVE," a red "USA," and a green "22." e 1986 stamp (Scott 2202) featured a whimsical cartoon puppy with a hopeful expression.

In 1987 the USPS announced that "in recognition of the universal nature of the theme" a new Love stamp would continue to be issued annually, a promise that was kept only irregularly. at year's stamp (Scott 2248) featured a cut paper pattern on a multicolored heart.

The following year, with the annual production of the Popular series approaching one billion stamps, the Postal Service decided to offer something more. For the first time there would be two Love stamps: one to meet the standard one-ounce first class postage rate and one to meet the two-ounce rate. e intent was to create complementary stamps that would pay the postage on wedding invitations (as well as large greeting cards) and their enclosed RSVP envelopes. Previously, wedding announcements had to be sent using a Love stamp with another issue in order to meet the two-ounce rate, or else overpaid by using two Love stamps.

The 25-cent stamp (Scott 2378) featured a single pink rose; the 45-cent stamp (Scott 2379) depicted a bouquet of pink red, and yellow roses. First day ceremonies for the 45-cent stamp were held at the American Rose Center in Shreveport Louisiana, the national headquarters of the American Rose Society. e Center's 118 acres of flower gardens contain more than 20,000 varieties.

There was no Love stamp in 1989, but there was a 25- cent stamped envelope (Scott U616). The indicia shows a red "love" in lower case letters underscored by a bright blue slash and followed by a blue exclamation point with a red heart. It was described as "designed to provide household mailers with an attractive envelope for personal correspondence."

The 1990 Love stamp appeared in both pane (Scott 2440) and booklet (Scott 2441) formats. e stamp image was the result of a USPS-sponsored design project for Yale University graduate students; the winning design was based on a lovebird motif prevalent in early twentieth-century New England and Pennsylvania folk art. First day ceremonies were held at a location deemed particularly suitable for a Love stamp release: Romance, Arkansas.

Love stamps meeting the one- and two-ounce first class postage requirements were released again in 1991, although the designs were not remotely complementary. e 29-cent stamp (Scott 2535) featured a heart shaped world, while the 52-cent stamp (Scott 2537) featured two brightly colored tropical lovebirds. ere was also a stamped Love envelope (Scott U621) featuring a script "Love" on a pink.

The deliberate attempt to find a suitably romantic location for first day ceremonies was repeated in 1992 when the Love stamp (Scott 2618) was released in Loveland, Colorado in time for Valentine's Day. Volunteers needed to be called in to help cancel the thousands of stamps that passed through Loveland for this romantic holiday. Love stamps also have been released at Loveland, Ohio and Lovejoy, Georgia.

The next year passed without a Special Love stamp but 1994 saw three releases: a heart-shaped rising sun (Scott 2813) and complementary wedding invitation-type stamps showing white turtledoves (Scott 2814 and Scott 2815).

The next major event was the 1995–1996 release of two "Cherub" Love stamps (beginning with the non-denominated 32-cent Scott 2948–2949, then the 32-cent Scott 2957 and 3030; and the 55-cent Scott 2958–2960). e two designs each featured a cherub from Raphael's Renaissance masterpiece e Sistine Madonna, now in Dresden, Germany. Raphael (1483–1520) painted e Sistine Madonna for the Benedictine Monastery Church of San Sisto in Piancenza, Italy. e oil painting shows Saint Sixtus and Saint Barbara worshiping the Virgin Mary and Christ Child who stand on a bed of clouds framed by heavy curtains. e two putti (cherubs) whose portraits appear on the Love stamps lean on a balustrade below the clouds, gazing upward. e Sistine Madonna appears on East Germany Scott 277, Italy Scott 1571, Nevis Scott 32C, and Nicaragua Scott 1289.

The Love envelope for 1995 (Scott U637) had a red spiral heart, similar to peeling an apple whole, without words.

A pair of swans, famed as icons of true love because they mate for life, were featured in the 1997 Love stamps (Scott 3123–3124), but the 1999 release (there was no Love issue in 1998) was something special. The one-and two-ounce stamps (Scott 3274–3275) with their fancy cut lace and oral heart designs were the first U.S. adhesives to be die-cut to the shape of the image depicted. The design of the one ounce stamp was repeated on a postal card (Scott UX300). The 1999 stamped envelope, however, had its own design: a violet script "Love" with pendant hearts (Scott U644).

In 2001 (there was no 2000 Love stamp) the USPS again began a series of stamp releases with a non-denominated version (Scott 3496), followed by oneand two-ounce postage stamps. The stamps offered excerpts from the love letters of John Adams (U.S. President 1797–1801) and his future wife, Abigail Smith. Abigail and John were married October 25, 1764 and remained together for y-four years until her death in 1818.Their correspondence can be read online at the Massachusetts Historical Society's web site, wwww.massshist. org/. e 34-cent stamp shows a red rose superimposed upon the original manuscript letter written by John on April 20, 1763 (Scott 3497, 3498); the 55-cent stamp shows a pink rose superimposed on a letter by Abigail written August 11, 1763 (Scott 3499), reissued later in 2001 as a 57-cent stamp (Scott 3551).

The 2001 stamped envelope featured a stylized drawing of two facing lovebirds whose profiles form a purple heart (Scott U647). e Love stamps for 2002 went modern and geometrical (Scott 3657–3658). ere was no issue for 2003.

An interesting partnership arose with the release of the 2004 Love stamp (Scott 3833), which featured a candy heart with the message "I [heart] YOU." First day ceremonies were held at the New England Confectionary Company (NECCO) in Revere, Massachusetts, where the tiny candy hearts with a stamped message (known as "conversation candies") were invented by Daniel Chase in 1866. Daniel's brother Oliver had invented and patented the first American candy-making machine in 1847, founding the nation's candy industry and beginning the commercial manufacture of the sweet treats. Chase and Company was the pioneer member of the NECCO family, which now makes 8 billion candy hearts annually. For the 2004 production the company added a special run of the postage stamp message, "I [heart] YOU."

The 2005 Love stamp issue was simple: a stylized hand holding out a bouquet of flowers (Scott 3898). Released during APS Ameri Stamp Expo in Atlanta, Georgia, the stamp design was intended to be symbolic of the warmth, hope, and happiness of love and friendship.

The following year, however, the USPS branched out again, issuing the First specically designated "Wedding" stamps. e special stamps were released during a fashion show at Kleinfeld's, New York City's premier wedding and bridal store for more than sixty years. A live model was positioned in a storefront window to unveil the stamps, which featured a white dove — a time-honored symbol of peace, love, and fidelity — and a small heart. Reminiscent of a bygone era, when letter writing was itself an art form, the stamp design is based on Spenserian script, an elegant mid-nineteenth- century style of cursive writing.

There was also a rather plain 2006 Love stamp featuring small blue love birds (Scott 3976) released in January. e design was created by Craig Frazier who arranged paper cutouts into a composition depicting two birds perched on a branch, then created a digital file and applied color.

In another candy-inspired partnership, the USPS issued the Hershey's Kiss Love stamp in 2007 (Scott 4122) to commemorate the 100th anniversary of the chocolate candy "kisses" stamp was released in Hershey, Pennsylvania, where the street lamps are shaped like the famous candy, even to the inclusion of its iconic paper "tag." So popular Was the Hershey Kiss that, in 1942, production had to be halted to save foil for the war effort. For the 2007 celebration, "100 Years of Kisses," the company created a 30,540-pound chocolate kiss, doubling the old world record for the largest single chocolate candy.

The Wedding stamps for 2007 featured a cut-paper heart on a lilac background for the one-ounce 41-cent stamp (Scott 4151) and on a pink background for the two-ounce 58-cent stamp (Scott 4152). is design was repeated the following year with different background colors: light green for the 42-cent one-ounce stamp (Scott 4271) and but for the 59-cent two-ounce stamp (Scott 4272). e Love stamp for 2008 was a colorful scene showing a tiny figure carrying a gigantic red heart (Scott 4270).

The year 2009 brought two sets of stamps: a King of Hearts and Queen of Hearts (Scott 4404–4405) for the Love stamp issue, a design based on images from eighteenth century French playing cards. When shown ?se-tenant, the Queen of Hearts is seen to be offering a small bouquet of flowers to the King.

The 2009 Wedding stamps are both "white on white" photographic images. The 44-cent one-ounce stamp (Scott 4397) features two gold wedding rings resting on a small white pillow, bound together with a slender ribbon of white. The 61-cent two-ounce stamp (Scott 4398) features a three tier white wedding cake topped with white flowers.

Although there were no Wedding stamps issued in 2010, there was the First Love stamp to greeting cards. The 2010 stamp (Scott 4450) features a white woven cart Filled with deep and light purple pansies and green foliage. The word "LOVE" adorns the left side of the stamp. e image is a detail from a watercolor created by the late Dorothy Maienschein, an employee of Hallmark Cards, Inc. (which offered its first Valentine card for sale in 1913). Introduced as a Mother's Day card in 1939, Hallmark reissued the design as a friendship card in 1941. Since Hallmark began tracking design sales in 1942, almost 30 million cards with the pansy cart image have been purchased, more than any other single card design in the company's history.

An estimated one billion Valentine's Day cards were exchanged worldwide in 2010, most of them in the United States, Great Britain, France, Australia, and Mexico. Love stamps are all well and good, but it is curious that the USPS has not thought to honor with a specific stamp the holiday that brings in so much annual revenue.