Jackson: Is that a new camera?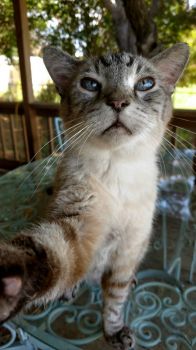 Why are you reporting this puzzle?
Or more appropriately ... Put That Phone Down and Pet me More! You've been away TOO Long!
This is my buddy Jackson from the lake. He looks like a cat but is really an elephant in disguise. I picked him up to put him out of my yard one day and it took him 3+ years to take treats from me again, or let me pet him! :)) He's a older guy at 12-14.
Give us a sense of you

We always encourage Jigidi puzzlers to add an image to their profile to give their fellow puzzlers a sense of who is behind the profile name. And if you include a profile description - even with just a few selected words - it will further help the community understand who they are lucky enough to have come across on Jigidi! ♥