What are these?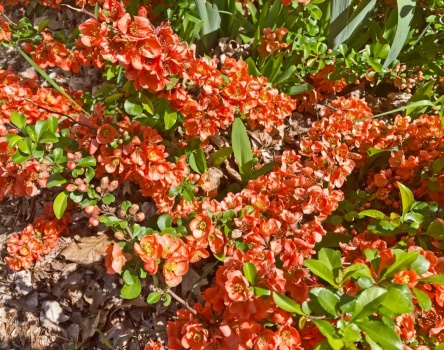 Why are you reporting this puzzle?
In my new place, I had these annoying thorny bushes growing from the garage door to the front porch, interfering with the opening of the garage screen door, catching your ankles along the sidewalk, and growing up under the siding. I was contemplating just digging them out, but then a week or so ago, I discovered why they were there. They started showing little orange globes, which turned into these spectacular orange flowers.

So what are they? I was thinking barberry, but I don't remember such profuse flowers (or orange), and I seem to recall barberry grows higher.

Looks like I'll have to keep them, but transplant them into a more controllable location.
Give us a sense of you

We always encourage Jigidi puzzlers to add an image to their profile to give their fellow puzzlers a sense of who is behind the profile name. And if you include a profile description - even with just a few selected words - it will further help the community understand who they are lucky enough to have come across on Jigidi! ♥