The Height of Children's Fashion In Boston In1755-1760 (Boy And Probably A Girl)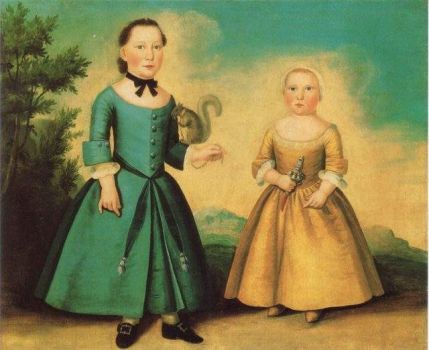 Why are you reporting this puzzle?
Most Victorian-era boys wore dresses and the reasons were practical

It has been said that clothes make the man. Whether this is true or not is irrelevant, but the fact remains that we, as a society, are all aware that appearance is everything; it's the first thing most people notice when looking at someone. Unknowingly, more often than we care to admit, we judge people by what they wear or how they look. It's in our nature and there's nothing we can do about it. In a way, it's a sort of an unwritten rule: if you want to make a killer first impression, you've got to look good.

When it comes to clothing in general, most of us remain confined by the norms and principles that define our gender. It's a distinction made in the broadest spectrum possible. For instance, we often make those stereotypical color associations that relate to gender (blue for boys, pink for girls), or we identify certain kind of clothing as suitable for men or women.

In order to maintain these strict social rules, many would sacrifice their comfort to appease their sex. Just think about it, wearing a dress is absolutely more comfortable than wearing, let's say, jeans. But, for all of us "true" men, that would be quite shocking because we are not prepared to lose our "macho" image over a dress. However, if you were a baby boy in the 19th century you could have easily ended up wearing a dress and that wouldn't be weird in any way. On the contrary, that was a common practice.

Not to get confused, the patriarch system was the norm in the Victorian era and gender roles were extremely polarized. However, young children were left out of the equation. According to most accounts, pictures, and photos, up until the age of seven, gender was apparently not something that parents paid much attention to. The clothes worn by boys and girls were nearly identical, indistinguishable from one another.