Bernard Meninsky (British, 1891–1950), Portrait of a Boy (1928)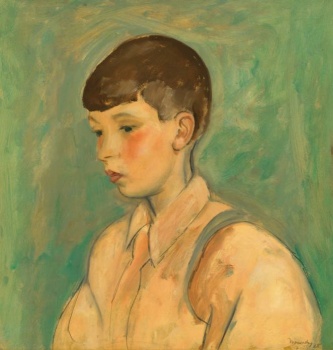 Why are you reporting this puzzle?
Pencil and oil on paper laid on board
18 ½ x 18 ¼ in (47 x 46.3 cm)

Bernard Meninsky was born in Ukraine. His family name was Menushkin, but when the family moved to Liverpool after his birth, it was entered into the record as Menisky. Meninsky himself added the second "n." He attended the Liverpool School of Art, then studied briefly at the Royal College of Art in London and the Académie Julian in Paris. After being awarded a scholarship Meninsky was able to study at the Slade School of Fine Art from 1912 to 1913. In 1913 he worked at a theatre school in Florence, later returning to teach painting and drawing at the Central School of Arts and Crafts.

During World War I Meninsky served in the Royal Fusiliers in Palestine. Then he became a Ministry of Information war artist. He was naturalized as a British Citizen in 1918 but had a nervous breakdown and was discharged from service. He continued drawing, painting, and teaching, despite having bouts of mental illness, until he committed suicide in 1950.