Peach Tea Cake ..for Warbler ( recipe included)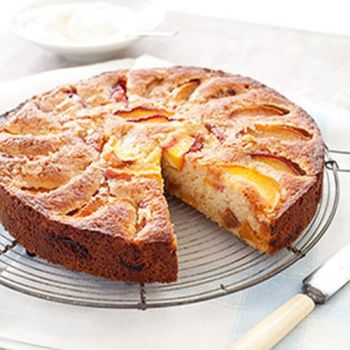 Why are you reporting this puzzle?
PEACH TEA CAKE

Ingredients:
120gm/4oz butter – softened
1 cup castor/fine sugar
2 eggs
1 teaspoon vanilla extract
2 cups self raising flour
½ cup milk
3 or 4 peaches (depends on size) peeled, cored & sliced
1 tablespoon brown sugar
1 teaspoon ground cinnamon

Method:
1. Heat oven to 180C – 350F and grease & line a 20cm – 8" cake tin.
2. Combine softened butter, castor sugar, eggs, vanilla extract, sifted SR flour and milk in mixing bowl & beat for 3 minutes.
3. Spread ½ the mixture in base of tin and chop most of the peach slices into chunks – leaving approx 8 for decorating the top of the mixture.
4. Top the mixture with the chopped peaches & sprinkle with brown sugar & cinnamon.
5. Spread the remaining cake mixture evenly over the chopped peaches and decorate the top with the peach slices.
6. Bake for 50 to 60 minutes.
7. Allow cake to stand in tin for a few minutes before turning out and then dust top with Icing/confectioners sugar.
8. ENJOY!!!!