Sketchbook Diary of a WWII Soldier – 4
Sketchbook Diary of a WWII Soldier – 4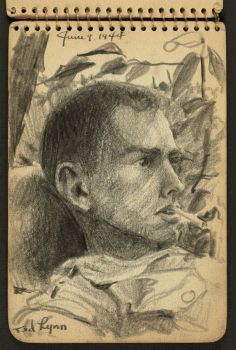 Why are you reporting this puzzle?
"Victor Lundy, who is now 95 years old, donated eight of his personal sketchbooks from WWII to the Library of Congress in 2009. Thanks to his donation, we are able to see Lundy's visual documentation of his personal experiences as a 21-year-old at war. The vivid imagery featured in his sketchbooks create a feeling that you're stepping back in time as you read the captions and dates explaining each of the drawings. The scenes range anywhere from air raids, to troop trains, to a game of craps for cigarettes. Lundy's drawings were done between May and November of 1944 and take us from his training in Fort Jackson, all the way to the front lines in France. These visual diaries are truly a beautiful gift to the world, and proof that when you're doing what you're passionate about, not even a war can bring you to a halt!"

Courtesy of Doodlers Anonymous

Thanks to Bommom for telling me about this series.