Chase the Art Patron ~ Linda Haukaas (Sicangu/Rosebud Sioux ledger art)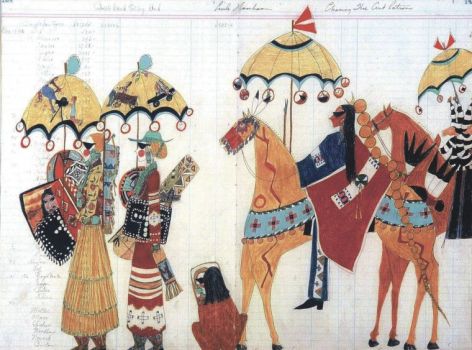 Why are you reporting this puzzle?
There is a long tradition of artwork among the native peoples of the Plains, who originally painted on animal hides – particularly buffalo hides. When buffalo became scarce after eradication programs encouraged by the US federal government, Plains artists began painting and drawing on paper, canvas, and muslin. In the mid 19th century, an increasing supply of ledger books and other paper came from Europeans, along with pencils, fountain pens, crayons, and watercolor paints. The ledger books used by storekeepers to record their sales were one of the earliest sources of paper for warrior-artists, and their art – done on any sort of paper – has come to be called "ledger art." The subject matter soon expanded to include all of Plains daily and ritual life.

Original ledger art flourished primarily from the 1860s to the 1920s and was the province solely of men. The revival of ledger art began in the 1960s and 1970s, now including some very talented women. Modern Plains artists create contemporary ledger paintings, often using 19th-century documents on which to paint, often creating ironic juxtapositions between the printed text and the paintings.

Linda Haukaas (Sicangu/Rosebud Sioux) recreates 19th-century ledger art within a modernized context, often addressing themes not usually dealt with in the historical ledger drawings, such as the life of Native women. Haukaas breaks new ground as a female ledger artist defying the tradition of this male dominated genre. Using the same drawing media as her ancestors combined with antique ledger paper, which she collects specifically for her work, Haukaas introduces the woman's perspective into ledger art. She creates not only depictions of the ceremonial lives of women and children but often interjects also humorous, political, or ironic twists that critique both historical and contemporary social issues pertaining to Native American populations.