Peder Mørk Mønsted, "Anacapri"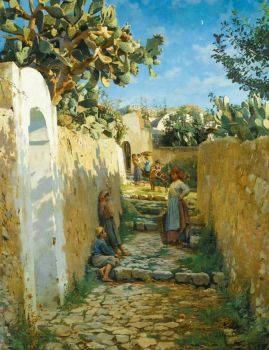 Why are you reporting this puzzle?
Peder Mørk Mønsted (10 December 1859 – 20 June 1941) was a Danish realist painter. He is best known for his landscape paintings.

His father was a well-to-do shipbuilder. At an early age, he began to receive painting lessons at the art school in Aarhus and, from 1875 to 1879, studied at the Royal Academy of Fine Arts with Niels Simonsen and Julius Exner. In 1882, he spent some time in Rome and Capri then, the following year, visited Paris, where he worked in the studios of William Adolphe Bouguereau.