My Shrimp Creole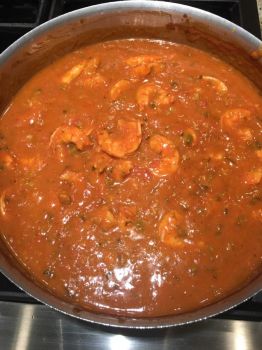 Why are you reporting this puzzle?
Plantation Cookbook Shrimp Creole
1/4 cup flour
1/4 cup bacon grease
2 cups chopped onions
1/2 cup chopped green onions
2 cloves garlic, minced
1 cup chopped green pepper
1 cup chopped celery, with leaves
1 tsp thyme
2 bay leaves
3 tsp salt
1/2 tsp pepper
6 oz tomato paste
16-ounce can tomatoes, coarsely chopped, and liquid
8 oz tomato sauce
1 cup stock (made from boiling shrimp heads and shells) or 1 cup water
4 lbs peeled, deveined, raw shrimp
1 tsp Tabasco
1/2 cup chopped parsley
1 Tbs lemon juice
2 cups cooked rice
In a 4-quart Dutch oven, make a dark brown roux of flour and bacon grease. Add onions, green onions, garlic, green pepper, celery, thyme, bay leaf, salt and pepper, and sauté, uncovered, over medium fire until onions are transparent and soft, about 30 minutes.
Add tomato paste, and sauté 3 minutes. Add tomatoes, tomato sauce, stock (or water). Simmer very slowly, partially covered fro 1 hour, stirring occasionally.
Add shrimp and cook until shrimp are just done, about 5 minutes. Add Tabasco, parsley, and lemon juice. Stir, cover, and remove from heat. Serve over rice.
Tips
This dish is best when allowed to stand several hours or overnight. Let cool and refrigerate. It also freezes well.