Superspace - as seen by the Hubble Space Telescope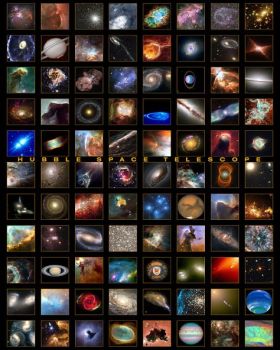 Why are you reporting this puzzle?
Images of celestial marvels taken by the Hubble Space Telescope, launched into low Earth orbit in 1990, to an altitude of 595km / 370mi - only about 6.5% of the distance to the moon.

Hubble's orbit outside the distortion of Earth's atmosphere allows it to take extremely high-resolution images, with substantially lower background light than ground-based telescopes. Hubble has recorded some of the most detailed visible light images ever, allowing a deep view into space and time. Many Hubble observations have led to breakthroughs in astrophysics, such as accurately determining the rate of expansion of the universe.

More if you solve the puzzle...