Hurricane Florence - more than 50 inches of rain forecast for Wilmington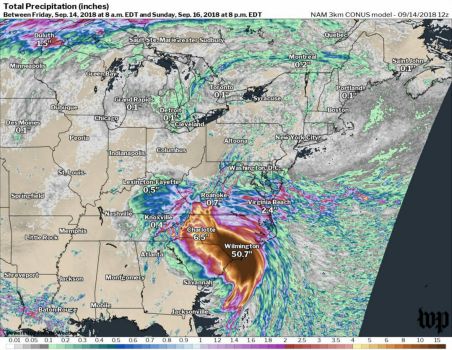 Why are you reporting this puzzle?
Florence's relatively slow movement (not to be confused with her high winds) inland means she is picking up lots of moisture from the ocean. The latest models forecast more than 50 inches of rain over the course of the storm in the Wilmington NC area. This coupled with storm surge of up to a whopping 13 feet! as waves pile in, driven onshore by the stalled storm.

See my other Florence puzzles, just published, for information on what the colour graphic indicates, and why this proves this is one heck of a flood risk.

This is a really serious and terrifying situation. :( thinking of everyone in the Carolinas and surrounding areas.