Greek Chicken Pita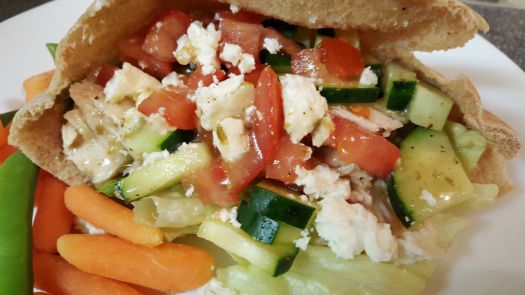 Why are you reporting this puzzle?
"Ingredients:

• 1/2 Papa Pita Whole Wheat Pita Bread
• 80 grams canned or grilled chicken
• 1/2 oz reduced fat feta Cheese
• 1 tablespoon Kraft Greek Vinaigrette Dressing

As many veggies as desired:
• cucumbers, diced
• tomatoes, diced
• lettuce, chopped

Instructions:

Place lettuce, chicken, tomatoes, cucumbers and feta cheese in pita then drizzle dressing on top. To get all your carbs for this meal you will need to add 15 grams of any fruit or vegetable."