Vintage poster The Ark, Sausalito, 1967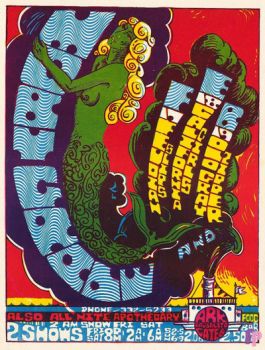 Why are you reporting this puzzle?
The Ark was a club and performance venue in Sausalito in the 1960's, the remains of an old ferry boat, where Sparrow (John Kay, pre-Steppenwolf) played frequently. This poster, by an uncredited artist, was for a concert February 17 - 19, 1967.

California Girls - nothing to find - sorry, unless you want to hear Katy Perry sing 'California Girls'... yeah, that's what I thought...

Freudian Slips - this clip is from a band called Fanny, 1972, which grew from the Freudian Slips, also an all female band: https://www.youtube.com/watch?v=imZUqkPlUaQ

Moby Grape - https://www.youtube.com/watch?v=hm8Wj4keXH4

Old Gray Zipper - can't find anything on this band, but you gotta admit the name is intriguing...

**Try this link for info: funklub.com/OGZ.html I still haven't found a recording, but this will give some information. They were referred to as "James Brown meets the Marx Brothers". This site gives me a few hints where we might find some details.

Thanks, Returner!