Antique Dolls-Bru Jne Bebes ~ Leon Casimir Bru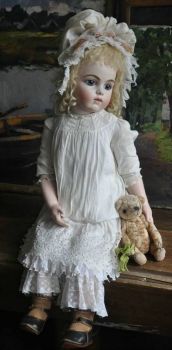 Why are you reporting this puzzle?
The Bru Jne & Cie company was located in France and manufactured some of the most beautiful and treasured bisque dolls that have ever been made. Dolls are commonly referred to as "Bru" dolls, but nothing about them is common. Want to make an antique doll collector faint, mention you bought a Bru doll for less than a few thousand dollars and have some smelling salts handy or they may think you are referring to, just a pair of shoes.

There are three basic types of Bru dolls; Poupée de Mode or Lady Fashion Doll (literal translation is Doll of Fashion with a Lady body), Bébé Bru doll (literal translation is Bru doll) on a kid leather body and a Bru Doll with a wood and composition body. Some bisque heads were supplied to Bru Jne & Cie by Eugene Barrois. A Bru Oriental doll is usually marked Bru Jne.

After 1899 Bru Jne et Cie became a member of the Society Française de Fabrication de Bébé & Jouets - SFBJ and continued to produce their Bru and Bébé dolls thru 1958. Because of the great value attached to Bru dolls, they are reproduced by modern artists more often than other antique dolls.