Blind Lemon poster 1966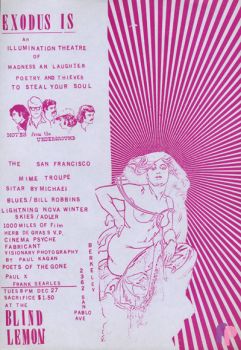 Why are you reporting this puzzle?
I was lookin' for a poster - again, something in the early to mid-60s to continue my soul-renewing process before continuing with Bill Graham Fillmore posters - and this is what you're getting. One poster I looked at had 22 - 22! - bands. I'd be sittin' here all day, possibly into Tuesday morning listening to music links to show examples of the bands on the poster. I don't get paid by the hour, you know. Twenty two bands! Who's gonna feed the cat? Who's gonna bandage my ankle when the cat bites me because he didn't get fed? You have noooooooo idea what I do for you, do you? And we make the assumption there's something to listen to... some of these bands existed for 14 minutes and didn't leave any recordings. I'll tackle those 22 bands eventually - I like a challenge - but not today. For now, you'll get this and like it... or not hate it... or ignore it... I guess I'm lucky if you even pause on the page the thumbnail is on...

This poster, by an unknown artist, is for a show of the San Francisco Mime Troupe on December 27, 1966. It was held at the Blind Lemon, a folk club in Berkeley which was opened by folk singers Rolf Cahn and Barbara Dane in 1958, the year that the Kingston Trio released "Tom Dooley." And yes, it was named after Blind Lemon Jefferson. Don't waste brain cells on any of that... life is too short.

The SF Mime Troupe (help... I'm trapped in a box...) performs free shows in various parks in the San Francisco Bay Area and around California. They don't do silent mime, but original political satire.

In the lower left corner it says "Sacrifice $1.50" instead of donation or ticket price. Read into that what you will.