"Window shopping" by August Macke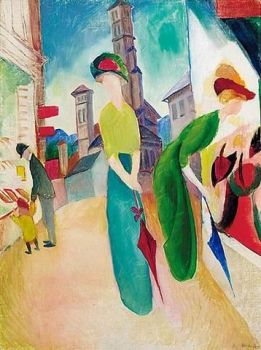 Why are you reporting this puzzle?
Auguste Macke (3 January 1887 – 26 September 1914) was a German painter who developed an interest in art from his father, a building contractor and amateur artist.
Macke lived most of his creative life in Bonn, with the exception of a few periods spent at Lake Thun in Switzerland and various trips to Paris, Italy, the Netherlands and Tunisia. His style was formed within the mode of French Impressionism and Post-impressionism and later went through a Fauve period.
The exotic atmosphere of Tunisia, where Macke traveled in April 1914 with Paul Klee and Louis Moilliet was fundamental for the creation of the luminist approach of his final period, during which he produced a series of works now considered masterpieces.
Macke's career was cut short by his early death in the second month of the First World War at the front in Champagne, France, on 26 September 1914.

The title of the above painting is "In front of the hat shop".