Elks (Harlem, 1931) ~ James VanDerZee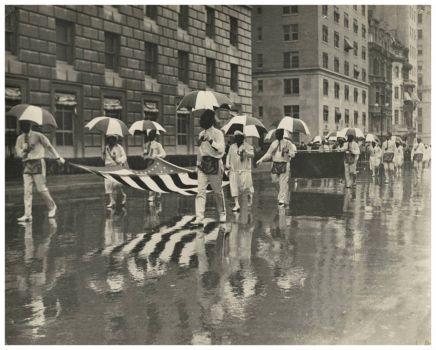 Why are you reporting this puzzle?
James Augustus Joseph VanDerZee (1896-1983) was a leading figure in the Harlem Renaissance. For six decades VanDerZee photographed the most celebrated and famous: Marcus Garvey, Bojangles Robinson, Countee Collen, Bill Cosby, Basquiat. But it was ordinary folks whom he photographed the most. Through his lens he captured the citizens of Harlem in lodges and clubs, weddings and funerals. He made studio portraits of actors, political figures, artists, soldiers, church groups, or people who simply wanted a photograph of themselves in elegant attire. VanDerZee's realistic representation of the Harlem community countered the stereotypical and offensive caricature views of African Americans. His photographs earnestly visualize the pride and beauty of the African American community. His prolific documentation of his time and place is unmatched: 100,000 photographic prints, negatives, and glass plates that archive black life in America.

In 1969, decades after he had disappeared into obscurity, the art world came calling for photographs for the exhibition "Harlem on My Mind" at the Metropolitan Museum of Art. Photographer Reginald McGhee, the exhibition's director of photographic research, had rediscovered VanDerZee's archive. In 1993, 10 years after VanDerZee's death, a major retrospective at the National Portrait Gallery in Washington, DC recognized him as the premier chronicler of Harlem life.