For RobbieL - 1 of the 10 x 10 bedrooms became a laundry with swimming FISH pillows!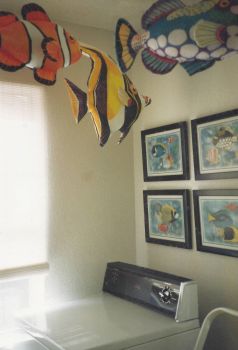 Why are you reporting this puzzle?
There were two teeny bedrooms (no closets) so we made one into a utlility room with a hangrod on one wall. Found the fish pillows in a catalog of decor for children's rooms. They were coated in plastic that could be sponge-washed. We hung them on nylon fishline and they just wafted around like they were swimming in the room. The "fish art" on the wall was a set of 4 placemats that my husband made frames for...so the fish could have friends!