Jozef Hanula, Spinner, 1904-1910, Slovak National Gallery, Bratislava, Slovakia.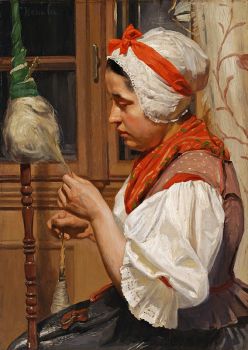 Why are you reporting this puzzle?
A similar focus on hands is visible in the painting by Jozef Hanula. The concentrated spinner is depicted in profile, is pulling a piece of fibre. Similarly to many other portraits by Hanula, the model is wearing a traditional folk costume.

Spindle and distaff remained in use in households until the 19th century and beyond, mainly because of their simplicity. Yet, a new invention appeared in Europe in the middle ages – a spinning wheel. It became a crucial tool in the cotton textile industry and laid the foundations for future machines, developed during the Industrial Industry. Being such an important device, it has been depicted in many artworks – from medieval manuscripts to 19-the century domestic scenes.