Bowstring Society (1876) ~ Howling Wolf (Southern Cheyenne)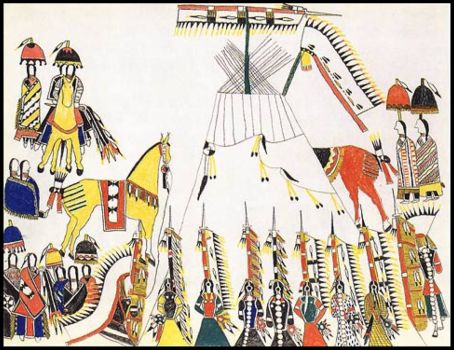 Why are you reporting this puzzle?
In 1875, Howling Wolf (1849-1947) was among a group of Plains Indians captured and transported to imprisonment in the old Spanish fort in St. Augustine, Florida, renamed Fort Marion by the U.S. Army. While at Fort Marion, Howling Wolf became proficient in what came to be termed Ledger Art. Today he is the probably the most prominent of the original ledger artists whose work has survived.

There is a long tradition of artwork among the native peoples of the Plains, who originally painted on animal hides – particularly buffalo hides. When buffalo became scarce after eradication programs encouraged by the US federal government, Plains artists began painting and drawing on paper, canvas, and muslin. In the mid 19th century, an increasing supply of ledger books and other paper came from Europeans, along with pencils, fountain pens, crayons, and watercolor paints. The ledger books used by storekeepers to record their sales were one of the earliest sources of paper for warrior-artists, and their art – done on any sort of paper – has come to be called "ledger art." The subject matter soon expanded to include all of Plains daily and ritual life.