Altered Doll Art ~John Cope's Fancy Dried Sweet Corn Tin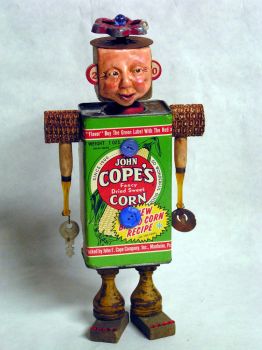 Why are you reporting this puzzle?
I never heard of .......
Pennsylvania Dutch John Cope's Dried Sweet Corn
it is still selling! Sounds like it has been around for
a 100 years.
Anyone else heard of it? Maybe it is sold only on
the upper east coast.

It is even sold at Wal-Mart online, costly though
case of 12 sells for $75.00, during this 100 year
anniversary, you can get it for $50. off. What do
you do with it?

The vintage tin makes for a cute altered doll.
Dollcollector

I have made and solved a 221 piece, of
this same jigsaw, let me know if you would
like to solve it, I will post soon if I hear from anyone.