The Bookstore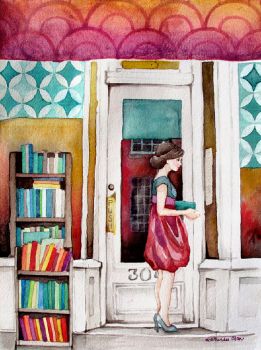 Why are you reporting this puzzle?
Artist Heatherlee Chan writes....

"I am a watercolor artist and illustrator living in Southern California. I am mostly known for painting pictures of friendship, flowers, and nature. I am just an old fashioned girl that cannot get enough of books, flowers, vast skies, old houses with attics, butterflies, and gorgeous dresses. My childhood was spent with my nose in a book adoring heroines with spirit. Because of that first love, I like to paint pictures that tell a story.

Four years ago my husband passed away suddenly from heart failure, leaving behind our two children and me. I wrote about my grief and tremendous loss on my blog. I have also written about finding myself, falling in love again, getting engaged, and having our baby girl. I stopped painting for a while because grief hit me so hard.

But now my heart overflows with color again!"