Skating Party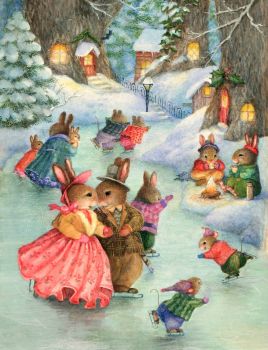 Why are you reporting this puzzle?
by Susan Wheeler

From her earliest days growing up in New England, Susan Wheeler explored the outdoors to discover the secret places where animals lived. Here she first imagined tiny brick cottages and moss-covered tree houses inhabited by woodland creatures.

With her careful brushwork - some brushes only a single bristle wide - Susan creates a nostalgic wonderland in incredible detail, one we would all love to enter if only we could find the magic door in the hedgerow! Inspired by the beauty she finds all around her, she believes that the purpose of art is to somehow reflect the glory and goodness of God, the original Artist who painted the world with love and life. And Susan desires, most ardently, to pass this beauty along to everyone who pauses over her work.