NOAA Hurricane Florence forecast - already needs more colour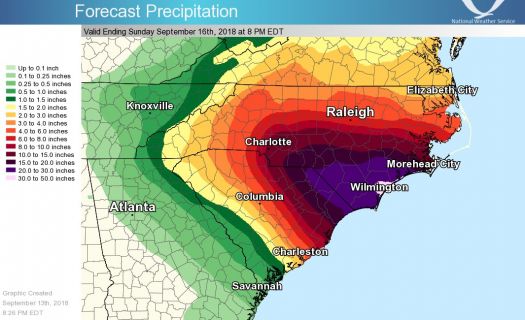 Why are you reporting this puzzle?
(Updated info - BROWN has now been added to indicate more than 50 inches, which is the newer estimate. See my other Florence puzzles - one rain, one wind - just published).

From yesterday: The National Weather Service are reporting that, as was the case with Hurricane Harvey last year, so much rain is predicted to fall as a result of Florence that they have to use an updated colour scheme in their rainfall graphic.

Last year, so much rain fell during Hurricane Harvey, which caused catastrophic flooding across Houston, that the NWS had to update their colour charts in their graphics to map it effectively, adding a bright purple to show 20-30 inches of rainfall, and a lilac colour to indicate greater than 30 inches.

Previously, the top band of rainfall shown in their graphics was 15-20 inches, represented by a dark purple.

The NWS have said that they have been forced to use this updated colour scheme again as "Florence is forecast to bring a large area of rainfall of 20-40 inches" to both North and South Carolina. They add that the threat of catastrophic flooding from Florence cannot be overstated.

This is not to mention the storm surge forecasts which are up to 13 feet (yes FEET) upriver in the estuaries.