Jean Auguste Dominique Ingres, Oedipus and the Sphinx (1808–1827)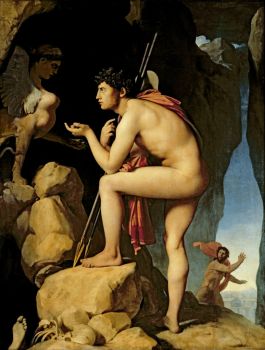 Why are you reporting this puzzle?
French Neoclassical artist Ingres originally painted a life-size figure of Oedipus in 1808 to submit to the Paris Salon. The judges were not impressed, and the painting returned to his studio. In 1825 he decided to rework and add to the painting; the finished product was exhibited in the Salon in 1827.

The Sphinx was a mythical creature in both Egypt and Greece which was thought to have the head of a human and the body of a lion. The Egyptian Sphinx was conceived of as male and benevolent, the Greek Sphinx as female and treacherous and cruel. The painting depicts Oedipus answering the riddle of the Sphinx, who guarded the gates to Thebes and would not let anyone pass unless they answered her riddle correctly. (She devoured the losers.) Oedipus answered correctly and the Sphinx threw herself off a high rock and died. As is usual in Greek mythology, the details of the riddle itself and the Sphinx's death vary.