Petulant Child German Doll Parts Vintage Shoehorn (?) By Elizabeth Rosen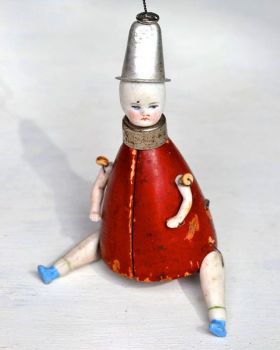 Why are you reporting this puzzle?
.................A creative imagination at work here! However, I am old enough to have been around when shoehorn's were sold, the ones I have seen were either plastic or metal, and were shaped
to fit behind one's heel in assisting the placement of the shoe on one's foot.

This looks more like the toe end part of the wooden shoe expander that would fit inside a shoe to help loosen or stretch the shoe in order for a better fit,

I have one of these, it is made of wood and has a screw like apparatus on the heel end.

I have made jigsaw of a found art doll, sitting in a wooden shoe expander and posted it here on Jigidi.