Vintage "Blossom" Cloth Boudoir Doll Art Deco made by Blossom co. usa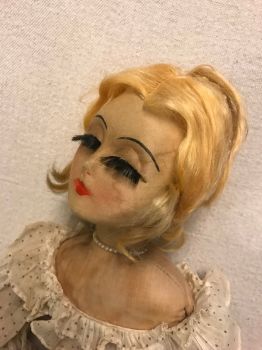 Why are you reporting this puzzle?
Etsy was selling this doll, they state the below:

Deco Cloth Boudoir Doll by "Blossom" 29" 1920's 1930's Rare find Vintage from the 1920s

"Blossom" Cloth Boudoir Doll 1920's/1930's

This Art Deco cloth boudoir doll measures 29" tall. She was made by the Blossom company, USA. She is all cloth with a hand painted mask face with distinctive pointy chin, swivel neck, & cotton cloth body firmly stuffed with cotton. Her hair is a Golden Blonde marcelled Mohair wig, Cornflower Blue side glancing Bette Davis eyes shaded by super long lashes, "bee stung" lips (Hollywood "It" girl style). She is wearing a Cream dotted Swiss patterned dress with a Brown silk sash. She is all original including her pearl necklace & a pale yellow pantie/petticoat combo with sassy Cream thigh-high stockings.

condition: please look closely at photos. this doll's fabric has discoloration & has darkened with age. Her swivel neck is a little wobbly giving her head a flirty tilt. Her mohair wig could use a refresh (& a picture hat?) & has shifted a bit but is still full . Her dress has some fading especially where she was seated & is threadbare in a few spots near her waist. Her stockings also have a little discoloration & a few pinholes.

She is so deco glam & coquette & much fun to pose!!