"Sunflower and Cherries"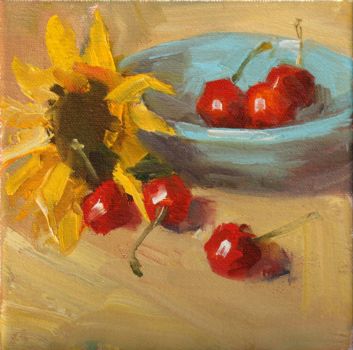 Why are you reporting this puzzle?
Carol Carmichael paints a variety of subject matter ranging from still life to animals and figures. Mrs. Carmichael uses loose brush work, vibrant colors and light to capture the beauty of everyday life. Mrs. Carmichael is a full time oil painter and draws inspiration from the discipline of daily painting. Her work has been represented in galleries such as Loretta Goodwin in Birmingham, DK in Marietta, GA and Stonehenge in Montgomery, AL. She is also in the "Daily Painters" online gallery and the "Daily Paint Works" online gallery. Mrs. Carmichael enjoys participating in art shows because of the personal connection to the patron and the opportunity to meet other artists. Mrs. Carmichael graduated from Birmingham Southern College with a degree in art education. She has been painting with oils for ten years and has had the opportunity to work with several renowned teachers; she also taught at the high school level for several years.