Plešné jezero, Šumava, Česká republika .......................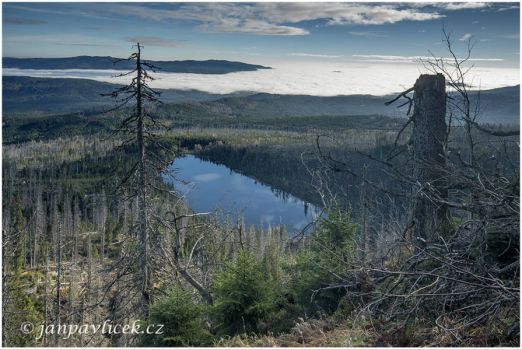 Why are you reporting this puzzle?
....... Plešné jezero - the widest glacier lake in the Bohemian part of Šumava - The fifth large lake on the Bohemian side of the Bohemian Forest is named after the Plechý Mountain, below which lies at an altitude of 1089 m. It was created after the retreat of the glacier, which left behind a 40 meter the frontal moraines and an impressive lake wall 250 meters high.
The Plešné Lake, also called Balvanité, is situated on the slope of Plechý Mountain, the highest mountain in the Bohemian part of the Bohemian Forest. Its area is 7.5 hectares and the largest depth of the lake is 18.3 m. Water from the lake flows through the Jezerní potok to the Vltava River. According to the preserved record of Plešné Lake, for the first time, on June 6, 1567, the Rožmberk regent Jakub Krčín from Jelčan explored. The lake was used to power the Schwarzenberg Canal.
Josef Rosenauer, the builder of the canal, seized the natural moray of the lake, increased it by a dike of about 2.5 m in height, into which the built-in dams was built. This made it possible to regulate the water in the lake, which became the main reservoir of wood for sailing in the Schwarzenberg Canal.
Pleasant Lake was visited on August 13, 1868, by Prince Jan Nepomuk of Schwarzenberg, and from this visit there is a memorial stone reminding of this visit of the future owner of the estate.
High above the lake on the rock wall is 14.5 m tall granite monument Albert Stifter, who is also called the poet of the Bohemian Forest. From the top of this rock wall there is a beautiful view of the whole lake and the surrounding mountain landscape.
Access to the lake is possible along the green route from Nové Pece (about 10 km) or Jelení (about 7 km). The path from Nové Pece will take you through the beautiful Šumava countryside, part of the trails runs along the Schwarzenberg Canal .........