Solnice v Mladé Vozici- salt house in Young Vozice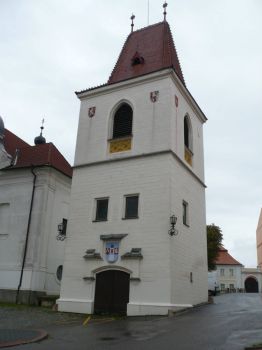 Why are you reporting this puzzle?
The tower was built of the year1425. Today's resemblance is result of a reconstruction in 1904.
The building had a history of many features - the ground floor was a warehouse of salts room above served as the town hall and Round House, in the top floor of resided employed by the urban attendant, who oversaw the safety of the city. After the demise of wooden bell tower were suspended from in the tower of the church bells. The prison served by the year 1853, the town hall in 1872, a fire station, which replaced by salt storage on the ground floor, in of the year 1953.
According to legend was in Zizkov district Tower Hall accommodated at Jan Zizka after the conquest Young Vozice 1420.