Founders Project: Joseph Lewis as Eze Nri ~ Stephen Hamilton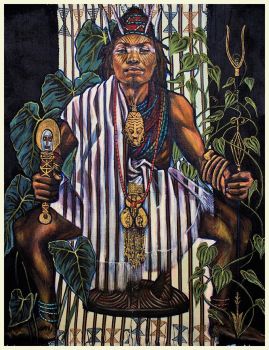 Why are you reporting this puzzle?
Nri was a medieval kingdom located in what is now Nigeria, administered by a priest-king called an Eze Nri.

Stephen Hamilton is an artist and arts educator living and working in Boston Massachusetts. He works in a variety of traditional media, including textile art, linocuts and wood carving, as well as drawing and painting. His work focuses on the aesthetics, philosophies and key symbols inherent throughout Africa and the African diaspora.

The Founders Project is a multimedia installation project that re-imagines Boston Public School High-School students as the legendary founders of the West and West-Central African societies, which are part of the ancestral base for the African diaspora. The pieces incorporate painting, weaving and sculpture traditions from each of the spotlighted societies and contributes to a larger high school syllabus on West African cultural continuity in the African Diaspora.

This series comes out of a desire to both address the persistent lack of Pre-Colonial African Narratives in mainstream educational discourse and to create empowering visual representations of Boston's Black Youth. Each piece dissects important key symbols pertaining to the historical figure and the culture that claims them as ancestor. The installations also expose viewers to the beauty and complexity of the visual arts of west and central Africa. Each piece incorporates accurate handmade reproductions of textile and sculpture arts from specific African ethnic groups, using only dyes, pigments, and materials available in Pre-Colonial Africa. Juxtaposed with western styles of acrylic painting, this results in new works that draw from both ancient African aesthetic conventions and the rich, contemporary mural traditions born out of the Black Arts Movement.