Křížová hora - kaple, Český Krumlov, Česká republika ...........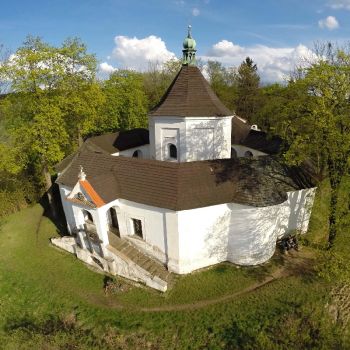 Why are you reporting this puzzle?
........ Chapel on the Cross Mountain in Český Krumlov -
Osmiboká Chapel of Our Lady and St. The cross is situated above Český Krumlov on the Křížová Hora. It was built in 1710 and is decorated with rich spiritual and building history.
The structure is vaulted by an eight-domed vault and is covered with a tent roof crowned with a poppies and a patriarch (double) cross. The interior, now without furniture, is illuminated by two windows on the ground floor and two windows upstairs.
At present, the chapel is administered by a clerk from Český Krumlov, who has been organizing a pilgrimage here since 1991 on the 14th of September. Crisis. During the year, the chapel is inaccessible.
The place is 1.5 km away from the square in Český Krumlov. It is necessary to climb up a steep hill, which is lined with cross-country chapels. From the top is a magnificent view of the center of Český Krumlov and close Kleť ........

........Kaple na Křížové Hoře v Českém Krumlově -
Osmiboká kaple Panny Marie a sv. Kříže se nachází nad Českým Krumlovem na Křížové Hoře. Byla postavena roku 1710 a je ověnčena bohatou duchovní a stavební historií.
Stavba je zaklenutá osmidílnou klenbou a pokrytá stanovou střechou korunovanou lucernou s makovicí a patriarším (dvojitým) křížem. Interiér, dnes již bez mobiliáře, je osvětlen dvěma okny v přízemí a dvojicí oken v patře.
V současné době kapli spravuje českokrumlovský farář, který zde od roku 1991 každoročně koná 14. září pouť na svátek Povýšení sv. Kříže. Během roku je kaple nepřístupná.
Místo je vzdálené 1,5 km od náměstí v Českém Krumlově. Je třeba vystoupat do prudkého kopce, který je lemovaný kapličkami s křížovou cestou. Z vršku je nádherný pohled na centrum Českého Krumlova a blízkou Kleť........