Wunderbar! Kammer & Reinhardt "MEIN LIEBLING' Flirty Character Child with Antique Dress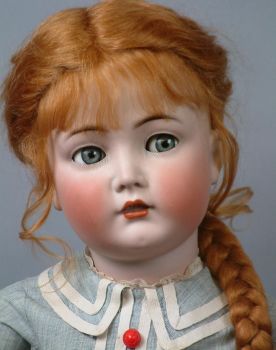 Why are you reporting this puzzle?
The Kämmer & Reinhardt doll company was formed in 1886 in Waltershausen, Thüringia, Germany by Ernst Kämmer and Franz Reinhardt.

Early K & R dolls were made of wax. K & R bisque doll heads and bodies were designed by them, but most heads were manufactured by Simon & Halbig which is why heads bear both marks. They also purchased heads from Kling and Schutzmeister & Quendt.

From 1886 to 1909 K & R made only dolly faced dolls with a bisque head on a composition ball jointed or kid body, many with an open mouth and teeth. After 1909 they made many types of dolls; bisque, composition or celluloid heads and even cloth costume dolls with wired bodies dressed in various professions.

K & R supplied some bisque heads used to make Emile Berliner's gramophone talking dolls in 1890-1894. In 1902 K & R purchased the Heinrich Handwerck doll company and about 1920 they acquired the Simon & Halbig company as well.

K & R is probably best known for character baby and child dolls.