Gustave Courtois, Portrait de l'athlète Maurice Deriaz (1907)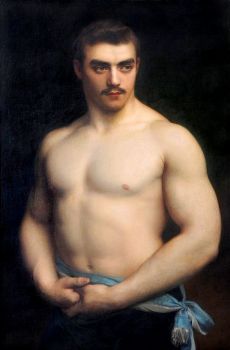 Why are you reporting this puzzle?
From the blog "Gods and Foolish Grandeur" (https://tinyurl.com/y3arwjvf):

Maurice [1885–1974] was five foot six and weighed about two hundred pounds. His neck was nineteen inches around, his chest forty-eight, and his waist thirty-five. His thighs measured twenty-six inches, calves sixteen-and-a-half, forearms fourteen, and his biceps seventeen. He was celebrated for his weight-lifting feats, his impressive gymnastic abilities, and as a champion Greco-Roman wrestler. Called "Le lion suisse" or "Roi de la beauté plastique," speaking fluent English, German, and Russian, he performed all over Europe.