Carl Larsson, "Poppies"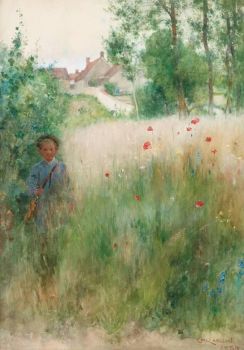 Why are you reporting this puzzle?
Carl Larsson (28 May 1853 – 22 January 1919) was a Swedish painter representative of the Arts and Crafts movement. His many paintings include oils, watercolors, and frescoes. He considered his finest work to be Midvinterblot (Midwinter Sacrifice), a large painting now displayed inside the Swedish National Museum of Fine Arts.

Larsson's father worked as a casual laborer, sailed as a stoker on a ship headed for Scandinavia, and lost the lease to a nearby mill, only to work there later as a mere grain carrier. Larsson portrays him as a loveless man lacking self-control; he drank, ranted and raved, and incurred the lifelong anger of his son after an outburst in which he declared, "I curse the day you were born". In contrast, Carl's mother worked long hours as a laundress to provide for her family.

However, at the age of thirteen, his teacher Jacobsen, at the school for poor children urged him to apply to the "principskola" of the Royal Swedish Academy of Arts, and he was admitted. During his first years there, Larsson felt socially inferior, confused, and shy. In 1869, at the age of sixteen, he was promoted to the "antique school" of the same academy. There Larsson gained confidence, and even became a central figure in student life. Carl earned his first medal in nude drawing. In the meantime, Larsson worked as a caricaturist for the humorous paper Kasper and as a graphic artist for the newspaper Ny Illustrerad Tidning. His annual wages were sufficient to allow him to help support his parents financially.