Retrospective 2015 - flowers from my garden / Les fleurs de mon jardin
Retrospective 2015 - flowers from my garden / Les fleurs de mon jardin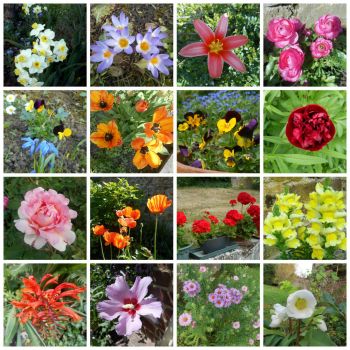 Why are you reporting this puzzle?
From left to right and top to bottom : narcissi, crocuses, lily, buttercup, scillas Siberica and pansies, tulips, pansies, peony, rose, poppies, geraniums, snapdragons, crocosmias, hibiscus, asters and Christmas roses.
De gauche à droite et de haut en bas : narcisses, crocus, lys, renoncules, scilles de Sibérie et pensées. tulipes, pensées, pivoine, rose, pavots, géraniums, gueules de loup, crocosmias, hibiscus altéa, asters et roses Noël.