The Grand Canal in Venice, Italy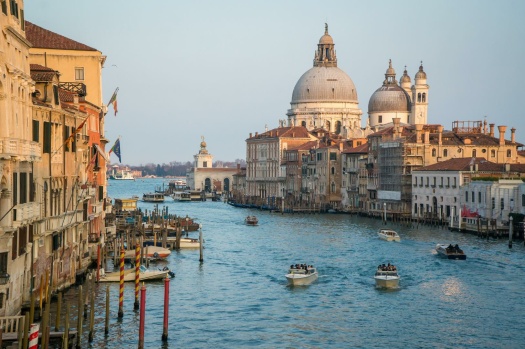 Why are you reporting this puzzle?
Today we visit Venice in northeastern Italy.

Venice is built on a group of 118 small islands that are separated by 177 canals and linked by over 400 bridges. Sadly, Venice is dealing with the threat of it slowly sinking. The city continues to take different measures to mitigate this issue and problems with the particular infrastructure of the city.

The city was one of the largest in Europe in the High Middle Ages. According to Wikipedia, Venice is the world's first international financial centre as trade grew from the 9th century and peaked around the 14th century. Silk, grain, spice, and art were trade darlings from the 13th century to the 17th century. Maybe less commonly known, Venice hosts several institutions of higher education as is a major international centre for higher education.

In Today's Daily Puzzle, we admire the city from afar as we gaze upon the Grand Canal in Venice, where it seems the classic Venetian boat, the gondola, has competition from more modern boats.
Do you know enough about copyright?

When you share material online, it's necessary to know what copyright law says about sharing online material. We have created a copyright video guide for you that will give you a basic understanding, along with 4 tips on how to share material within the boundaries of copyright law.