Granny Protest Fizzles Out!..........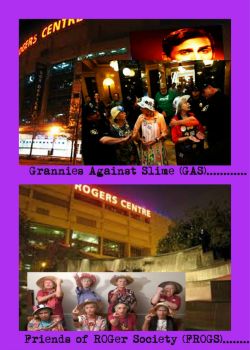 Why are you reporting this puzzle?
Further-Farther-Bonga was once more in the news today, as Mr.Roger Bugosi's newly opened fashion
emporium was the scene of a confrontation between the "Grannies Against Slime" (G.A.S.) and the "Friends of ROGer Society" (F.R.O.G.S.).......
As words between the two groups threatened to become a battle of the handbags, Bonga-Bonga
Security guards (BO.BO.S) had to escort the G.A.S. out of the building, as the F.R.O.G.S. waved goodbye in their own inimitable fashion......
The magnanimous Mr.Roger declined to press charges, limiting himself to comment : "I believe those ladies to have a false impression of me - but my pip shall never be toodled!".......