Stade, Nebengebäude am Kloster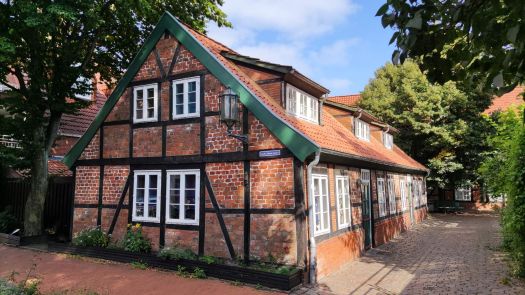 Why are you reporting this puzzle?
(eigenes Foto; September 2021)

Das Stiftungsdatum des Franziskanerklosters ist nicht bekannt. Als um 1236 Abt Albert, Vorsteher des außerhalb der Stadt gelegenen Marienklosters hierhin übertrat, bestand es bereits. Albert war mit seinem Anliegen gescheitert, das Marienkloster in ein Ordenshaus der Zisterzienser umzuwandeln.
Bis 1526 lebten im St. Johanniskloster Mönche, im Zuge der Reformation löste sich der Konvent jedoch auf. Er diente fortan als Armenhaus. Nur 1629 bis 1632 kehrten kurzzeitig Ordensbrüder zurück, danach zogen wieder Bedürftige ein.
Das heutige U-förmige Gebäude entstand nach dem Stadtbrand von 1659. Er hatte auch das Kloster nicht verschont. 1672/1673 erhob sich an gleicher Stelle die dreiflügelige Anlage. Sie wartete mit 60 Zimmern für arme und alte Menschen auf.
Der Fachwerkbau erstreckt sich über zwei Geschosse. Das obere kragt auf profilierten Balkenköpfen vor. Steine unterschiedlichen Formats füllen die Gefache aus, darunter auch Trümmersteine vom Brand 1659. An der heute offenen Nordseite stand früher die Klosterkirche.
Archäologische Grabungen erbrachten den Nachweis, dass die erste Kirche gegen Ende des 14. Jh. durch einen Neubau ersetzt wurde. Ihn zeigen wohl auch die ältesten Stadtansichten. Im Innenhof sind die südliche Mauer und eine Stützpfeilerreihe der einst dreischiffigen Backsteinkirche neu aufgemauert.
(Text: http://stadtgeschichte.museen-stade.de)

The date of foundation of the Franciscan monastery is not known. When around 1236 Abbot Albert, head of the monastery of St. Mary outside the city, transferred here, it already existed. Albert had failed with his request to convert the St. Mary's Monastery into a Cistercian religious house.
Monks lived in St. John's Monastery until 1526, but in the course of the Reformation the convent dissolved. From then on it served as a poorhouse. Only from 1629 to 1632 did friars return for a short time, after which needy people moved in again.
The present U-shaped building was built after the town fire of 1659, which did not spare the monastery. In 1672/1673 the three-winged complex was built on the same site. It offered 60 rooms for poor and old people.
The half-timbered building extends over two floors. The upper one cantilevers on profiled beam heads. Stones of various sizes fill the compartments, including rubble stones from the fire in 1659. The monastery church used to stand on the north side, which is open today.
Archaeological excavations proved that the first church was replaced by a new one at the end of the 14th century. It is probably also shown in the oldest views of the town. In the courtyard, the southern wall and a row of supporting pillars of the once three-nave brick church have been rebuilt.

No se conoce la fecha de la fundación del monasterio franciscano. Cuando el abad Alberto, jefe del monasterio de Santa María, a las afueras de la ciudad, se trasladó aquí hacia 1236, ya existía. Alberto había fracasado con su petición de convertir el monasterio de Santa María en una casa de la orden cisterciense.
Los monjes vivieron en el monasterio de San Juan hasta 1526, pero el convento fue disuelto en el curso de la Reforma. A partir de entonces, sirvió de asilo para pobres. Los frailes sólo volvieron brevemente de 1629 a 1632, tras lo cual los necesitados volvieron a instalarse.
El actual edificio en forma de U se construyó tras el incendio de la ciudad en 1659, que tampoco perdonó al monasterio. En 1672/1673 se construyó en el mismo lugar el complejo de tres alas. Tenía 60 habitaciones para personas pobres y ancianas.
El edificio de entramado de madera se extiende en dos plantas. La planta superior se proyecta sobre cabezas de vigas perfiladas. Los compartimentos están llenos de piedras de diversos tamaños, incluidos los escombros del incendio de 1659. La iglesia del monasterio se encontraba en el lado norte, que hoy está abierto.
Las excavaciones arqueológicas demostraron que la primera iglesia fue sustituida por un nuevo edificio hacia finales del siglo XIV. Probablemente, esto también se muestra en las vistas más antiguas de la ciudad. En el patio interior se han reconstruido el muro sur y una hilera de pilares de apoyo de la que fuera una iglesia de tres naves de ladrillo.
Do you know how to save puzzles for later?

If you want to save a puzzle for later, you can bookmark it, and it will stay in your bookmarks – waiting for you ☺