ST. PATRICK'S DAY DECOR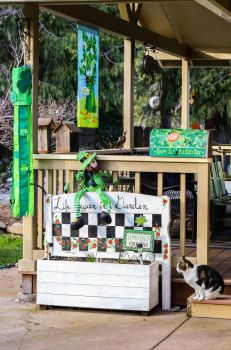 Why are you reporting this puzzle?
This is my fourth and final puzzle today, honoring St. Patrick's Day. I mentioned in another puzzle that Sue decorates the inside of the house with seasonal or holiday related themes. So this week I found numerous, mostly green, St. Patrick's Day objects. I started counting those items in the house yesterday but got tired after 50. There were still many items left. Then I walked outside and found more in the yard and on the porch. He is a sample of what I am talking about. Sue's cat ziggy, photo bombed my puzzle photo. Oh, by the way, ziggy is Irish.