Awesome Nature - Mystery of The Eye of the Sahara.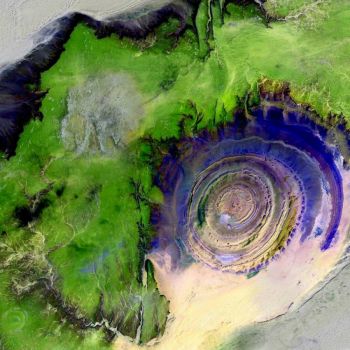 Why are you reporting this puzzle?
The Richat Structure, also known as the Eye of Africa, Eye of the Sahara, Earth's Bull's Eye, was spotted in central Mauritania by astronauts on early space missions. In the expanse of the Western Sahara Desert, the formation has a diameter of about 30 miles. At first, scientists thought a meteorite had hit the Earth, causing this impression. But now it is believed to be a symmetrical uplift that erosion has revealed. The sedimentary rock exposed in this dome ranges in age from Late Proterozoic (2.5 billion years) within the centre of the dome to Ordovician (480 million years) sandstone around its edges. No one can explain the how+why of this circular phenomenon.
This photo was captured by the orbiting Landsat 7 satellite in 2010.