INSPIRED ARTS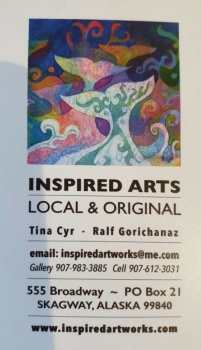 Why are you reporting this puzzle?
This is our favorite gift shop in Skagway. It is owned by a wonderful local artist who sells her own artwork as well as many beautiful handcrafted items from other local artists. The shop is beautifully decorated with beautifully made items from artwork paper, wooden carvings, metal work and many other mediums.
The artwork on this business card is done by the owner. Every time we are in Skagway, we make it a point to visit this establishment and purchase at least one item...Bernadette
What are the symbols on the jigsaw puzzles?

When you browse jigsaw puzzles on Jigidi, you may notice different symbols on the puzzles. One symbol lets you bookmark the puzzle for later, and other symbols tell you about any previous activity you may have on the puzzle.