Hillcroft of The Wrigley Estates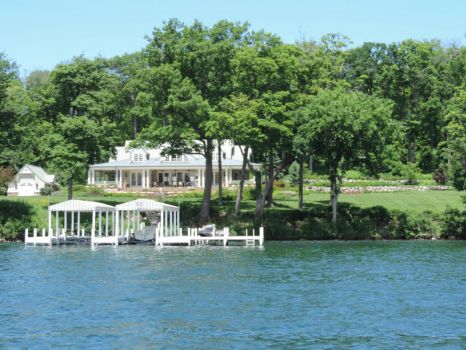 Why are you reporting this puzzle?
Wrigley Estates
If you stroll the streets of Lake Geneva you will regularly observe tourists pointing toward Stone Manor and referring to it as the Wrigley Mansion. Despite what you might have heard…The Wrigley Mansion is not the big Stone Estate located on the Northeast shore of Geneva Bay. In all reality, there really is no Wrigley Mansion.

The Wrigley Estate is a collection of 6 properties that claim the most lake frontage on Lake Geneva. Under William and P.K. Wrigley, the family built one of the most famous fortunes in the country. At the time of his death in 1977, P.K. Wrigley's fortune included the Wrigley Chewing Gum Company, The Chicago Cubs, Wrigley Field, The Wrigley Building in downtown Chicago, significant real estate holdings in downtown Phoenix, Arizona and most of Catalina Island off the coast of Southern California.

Hillcroft
The next property on the Wrigley Estate is called Hillcroft. It began in the 1880's as a small hunting lodge for architect Henry Lord Gay and was originally called Gay Lynne. From 1927 until 1977, Hillcroft served as P.K. Wrigley's summertime residence, and later his guesthouse. When it was sold in 1980, the new owner had the original home torn down and built this modern beauty, which incorporates many of the original architectural features.