The Talking Eggs cover illustration ~ Jerry Pinkney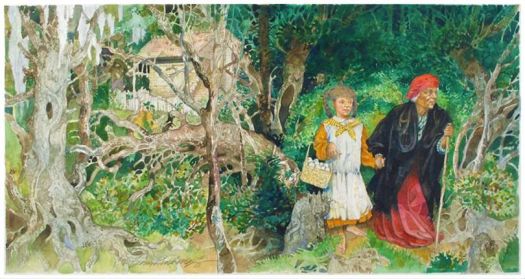 Why are you reporting this puzzle?
African-American artist Jerry Pinkney has been illustrating books for young and old since 1964, completing over one hundred titles. He has received five Coretta Scott King Awards, five Caldecott Honors, and the 2010 Caldecott Medal for his adaptation of The Lion and the Mouse (2009). His books have been translated into sixteen languages and published in fourteen countries. In 2011, he was elected into the Society of Illustrators Hall of Fame.

In addition to his work with children's books, Mr. Pinkney has exhibited in over 130 solo and group shows, and conducts workshops with schools and teachers throughout the country. An inspiration to many, Mr. Pinkney openly shares insights and understanding into his experience with dyslexia and how it has shaped his life.

An adaptation by Robert San Souci of a Creole folktale, The Talking Eggs (1989) tells the story of a sweet young heroine who labors in service to her lazy mother and sister until her kindness to an old woman propels her into a miraculous world. Among the magical treasures she discovers there are dancing animals, two-headed cows, and talking eggs that cry out to be taken. On her way home, Blanche tosses each of the eggs over her shoulder as she was instructed to do, and finds them filled with riches beyond her wildest imagination.