Frederic Remington (American, 1861–1909), Historians of the Tribe (ca 1890–1899)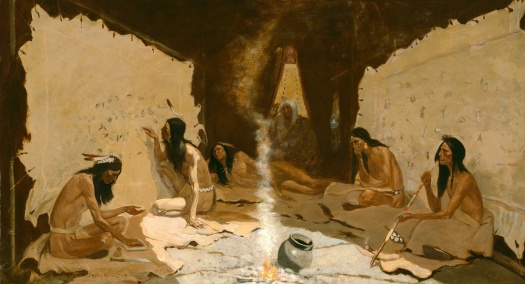 Why are you reporting this puzzle?
Oil on canvas
62.2 x 111.4 cm (24 1/4 x 43 7/8 in)
Art Institute of Chicago
George F. Harding Collection

From the Institute's website:

Executed around 1890, the year when the massacre at Wounded Knee effectively ended the army's conflict with the Plains Indians, Historians of the Tribe clearly situates the glories of Native Americans in the past. In a tightly defined, darkened interior, watched over by a tribal elder in the central background, five men—their postures slumped or languid in surrender—record and reread their hieroglyphic history. At the moment of their defeat, Remington chose to depict his Native American subjects with a certain sentimentality.