Good Wishes .. all faiths have sayings wishing 'good' on the world.. here are words on that line from the Babylonian Talmud. See comments below.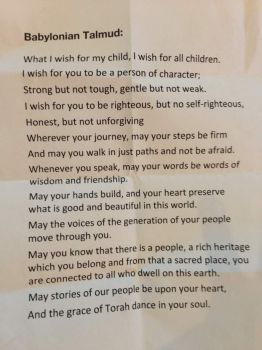 Why are you reporting this puzzle?
Solving this puzzle should NOT be made difficult .. the words are meant to be useful and helpful

I forget where this picture originated - it was sometime/somewhere on a trip to Israel. I can tell it is on a piece of paper that had been folded. I can see that some of the language is a bit fractured and/or there is a typo. Despite those minor deficiencies, I think most folks would agree the sentiments expressed here are heart-felt and are meant as 'good' wishes - applicable to all people of all religions/races/etc and are not meant as any type of proselytizing. Leave a comment if you are offended or dislike or disagree with the thoughts here.