Awesome Nature - Bioluminescent Plankton, Hyams Beach, Jervis Bay, Australia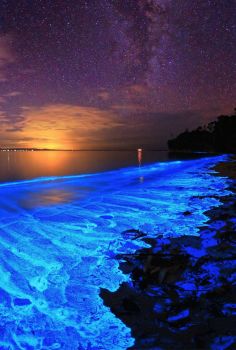 Why are you reporting this puzzle?
Bioluminescence is a chemical reaction called chemiluminescence, where a creature produces light within their bodies. Certain types of chemicals react to produce energy which excites other particles through vibration generating light which causes the glow. The group of chemicals involved to make plankton glow are broadly termed luciferins. The light is produced by a series of oxidation reactions set off by a catalyst called luciferase.
Basically, the movement of the waves washing up onto the beach excites the chemicals in the plankton+makes them glow!
This ethereal phenomenon can be found in various places all around the world.